A little info on BobberCycle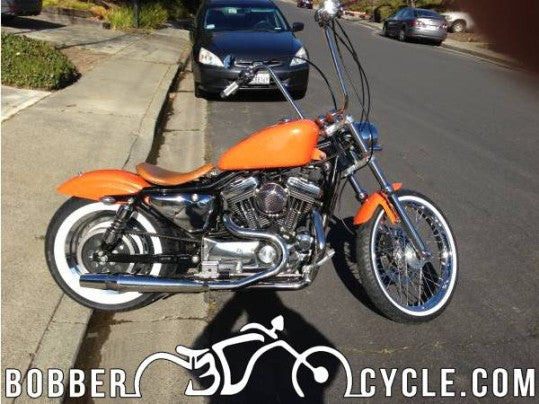 There is nothing more American than hitting the open road; and there is no better way to do that than on an American classic, a Harley Davidson. BobberCycle.com ; celebrates American tradition in style and in philosophy. Made in America, by Americans, and for Americans and those who share in the spirit of freedom and simplicity. Your bike takes you wherever your heart desires, so it's up to you to give it the attention it deserves. From seats, to leather bags, to custom accessories, BobberCycle specializes in unique and handcrafted items that will set your bike apart from the pack.
The greatest innovations often come from the strongest needs. And who better to design and produce the right parts and accessories for your bike than veterans of the road? This is why BobberCycle only works with the top talent to create each product. Our products are meticulously designed, mercilessly tested, and made of the highest quality materials available…and all right here in California.
There is an expression that a rolling stone gathers no moss, and that is probably also true for a bike that is being enjoyed as it should. But even a bike needs a cool dry garage to keep it safe. And garages usually have yards next to them. And yards usually have moss in them or nearby. The point is that although we live for life on the open road, we understand that our passion has roots. BobberCycle's roots lie in the heart of the San Francisco East Bay, Oakland, CA, and we are proud to work with some of the most talented firms in the region. BobberCycle is proud to boast the largest selection of La Rosa Design custom seats, bags, and more, also designed and manufactured right here in California. In addition to La Rosa Designs, BobberCycle works with the talented designers at BayThread.com, a top Pattern Shop in Northern California, to create stylish designs for your sweet ride.
Returning veterans from WWII fell in love with the bikes that our European counterparts were enjoying across the pond, and when they came home they had to have some of their own. With these images burned into their minds and determination in their guts, these men pioneered the bobber sub-culture of hand built, stripped down, inexpensive rides that we continue to enjoy today, and for that we can never express how truly grateful we are. It is with stewardship in our heart that we carry the torch.
BobberCycle and its partners work hard to produce parts and accessories that exceed your expectations and encourage individuals to take their passion to the next level. Whether you are swapping out your bags, or doing a ground up restoration, BobberCycle has many of the parts and accessories that you will need to get the job done right. From conversion kits, to custom mounts, to leather bags, seats, and more, BobberCycle continues to deliver more products to the market that will stand up to tough conditions on the road.
---