What is a motorcycle chopper?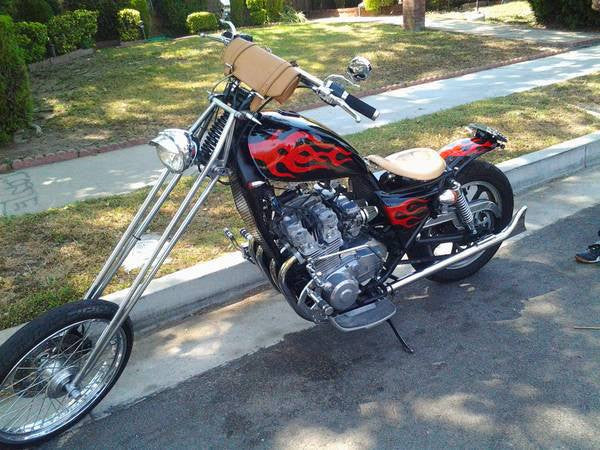 There aren't many vehicles on the road that will turn heads like a stunning old school Chopper. These bikes are similar to the popular bobber style motorcycles in that they are minimalistic in design but yet their customized handcrafted appearance gives each bike a unique look. A chopper is exactly how it sounds; various unnecessary parts are chopped off the bike to create a custom look according to the owner's preferences. What makes a chopper stand out is its long frame and increased rank angle. Unlike other types of motorcycles a chopper has no rear suspension so that the frame of the bike extends from the front frame to rear wheel which makes handling the bike a bit more challenging.
In the past Harley Davidson and Indian were the most common choppers, but now any bike can be choppers. Now it's common to see Japanese style metric cruisers such as the Honda VTX, modified into a chopper. These modifications make the bike much lighter and enables it move faster which makes for a greater performance. Customized choppers are becoming a big trend in the biking world because they allow owners to create their own piece of unique art. That's right; custom chopper builders are creating a work of art with their custom paint jobs and funky designed shells. Some choppers are even designed with a low frame to the ground which gives that old school low rider flair. How to Build a Chopper
Every biker enthusiast has envisioned their dream custom bike, as excited as you are on building your own; just know that it can be tough. Of course all the hard work will pay off once you get to take a ride on the bike you built. Converting a Stock Bike
If you are not looking to spend a lot and you want this project to be quick and a bit easier or something to just get your feet in wet in chopper construction, then you might want to use already built motorcycle especially if it's running. So if you have decided to convert a stock motorcycle into a chopper you can purchase a chopper conversion kit. Chopper conversion kits are fairly new to the biker market but it's your easiest and quickest option to converting your bike. With a chopper conversion kit you won't have to modify the stock frame and if you decide that you're not feeling the conversion you can easily undo the changes.
The good thing about a chopper conversion kit is that it will contain everything you'll need for the conversion such as; the triple trees that will help you form a new steering axis and rake. The kit will also include those long front forks that give you that chopper look you're going for.
Transforming a Rolling Chassis
Purchasing a rolling chassis or empty a chopper frame which includes the rear and front wheels, handle bars, triple clamps and front forks is also a great option. Everything is already built and configured to work together and the only thing you'll have to do is install an engine and transmission. This allows you to focus on the design and customization of your motorcycle which is the most exciting part.
Building From the Ground Up
Building a chopper motorcycle from the ground up can be extremely difficult. Of course you'll have to have a decent set of mechanical skills but you'll also need some wielding experience unless you don't mind having a professional take care of this phase.
When building a chopper from the ground up there is a lot of things you will have to consider, such as your preference of the bike build. Are you interested in a soft tail or hard tail? Using a hard tail or rigid frame will be your least expensive option because hard tail frame doesn't include a rear suspension which really allows you to feel the road beneath your bike as you ride. A soft tail frame utilizes an active rear suspension which costs more to build because there are more parts and more maintenance.
You'll also have to decide what type of material you're interested in using, steel or aluminum? Aluminum is lightweight but still durable enough to support the engine, chassis and other parts of your bike. Steel is strong and sturdy material and can also provide reliable support to the chopper frame, engine and other accessories. When constructing an original chopper it's very important to make sure you're motorcycle is in line with your local Motor Vehicles Department rules and regulations so that your bike will be street legal. There's nothing worse than getting carried away in constructing your bike and adding all of the accessories you have been dreaming of and then find out that you won't be able to take it out on the road. So before you begin your building project, make sure all of the parts you purchased are for on road use so that your chopper can pass inspection.
Chopper vs. Bobber
"Chopper" and "Bobber" are often mentioned in the same sentence. They are known as cousins in the biking industry because they have similar characteristics. Both bobbers and choppers are simple bikes. All extraneous parts are removed on both styles of bikes. So what makes a chopper different from a bobber? Well bobbers have shortened fenders, stripped parts and solo seats with no modifications to the frame. Choppers often have modified frames to change the rake and front forks. The fenders are also completely removed. Choppers are much more expensive to buy and build than bobbers.
Today chopper motorcycles have a large following and are no longer limited to the Harley Davidson brand. West Coast Choppers, Jessie G. James and Honda are just a few companies who produce traditional style choppers in a variation of designs, colors and matching accessories. There are also companies who offer custom chopper building services. So yes, you can have that custom bike without the added frustration and actually building one of your own.
---